Welcome to Wilson Community College!
In the shade of the crepe myrtles that line Herring Avenue, in the cool of DelMastro Auditorium, in the glow of a laptop screen in your own home—you can expand your mind, secure a future for your family, serve your community, and enjoy good work with new friends.
Wilson Community College, like all of the more than 1100 community colleges in the United States, serves its community in a surprising variety of ways:
We offer
The first two years of a traditional bachelor's degree
Degrees and certificates in technical, industrial, service, and healthcare disciplines
High school equivalency
Adult basic education
Customized trainings for local businesses
Small business start-up assistance and success counseling
Community interest courses like painting, dancing, and conversational Spanish
And much more
Further, did you know that
Almost half of all United States bachelor's degree graduates attended a community college.
If you successfully complete at least one year at a community college, your chance of being accepted at a university is much higher than that of a high school graduate.
If you recently took at least one year of college transfer courses at Wilson Community College, your chance of success in your first year at a university would be 90% or higher.
About half of North Carolina's nurses graduated from a community college.
Almost all of North Carolina's law enforcement officers, fire fighters, and emergency medical technicians trained at a community college.
If you are a current student, make sure to take advantage of all that we offer. Ask questions when you want to, and ask for help when you need to – fulfilling your needs is our first priority. If you are a prospective student, come to see us, call us, e-mail us – someone will sit down with you and personally guide you to the opportunity that you seek.
Thank you for your interest in Wilson Community College. We look forward to serving you.
Respectfully,
Tim Wright, EdD
President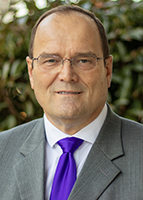 President
Department: President's Office
Phone: (252) 246-1202
Email: twright@wilsoncc.edu
Office: B100a