Local Unsung Heroes Banquet
Wilson Community College would like to recognize and honor the men and women who risk their lives every day. Join us October 18, 2018, at a banquet to celebrate those who go above and beyond the call of duty. All proceeds will benefit the Wilson Community College Foundation.
Do you know a hero you would like to nominate? Information on criteria and how to nominate can be found here.
2018 Scholarship Awards Ceremony
The 21st Annual Scholarship Awards Ceremony will be held on Thursday, November 8, 2018, in the Frank L. Eagles Community Business Center. We look forward to seeing all of the scholarship recipients, donors, Foundation Directors, College Trustees, College faculty and staff, and other distinguished guests at this event.
Awards Luncheon for the 10th Edition of the Literary Review
The Literary Review Awards Luncheon was held on Wednesday, April 18, 2018 in the Frank L. Eagles Community Business Center. The students, faculty, and staff who were published in this year's edition of the Wilson Literary Review enjoyed lunch provided by the WCC culinary department. Winners were awarded their prizes by contest judge Ellery Adams, a New York Times best selling author. The Wilson Literary Review is an annual publication supported by the Wilson Community College Foundation and the Wade A. Gardner, Jr. and Lonnie M. Chase Endowment for the Humanities. If you would like to purchase a copy of the Wilson Literary Review, please contact the Foundation at 252-246-1271.
Fall 2017 Scholarship Awards Ceremony
The Wilson Community College Foundation held its 20th Annual Scholarship Luncheon on Thursday, November 9, 2017. Speakers included Ms. Carrie Wilson-Morris, a Paralegal Technology student, and Mr. Ken Jones, the Chairman of the Wilson Community College Board of Trustees.
Fall 2017 Scholarship Run
Despite a rainy start, we had a great turn out at the Scholarship 5k Run on Saturday, October 7, 2018. Thank you to everyone who participated and to our sponsors. Your generosity will continue to help Wilson Community College students realize their goal of graduation.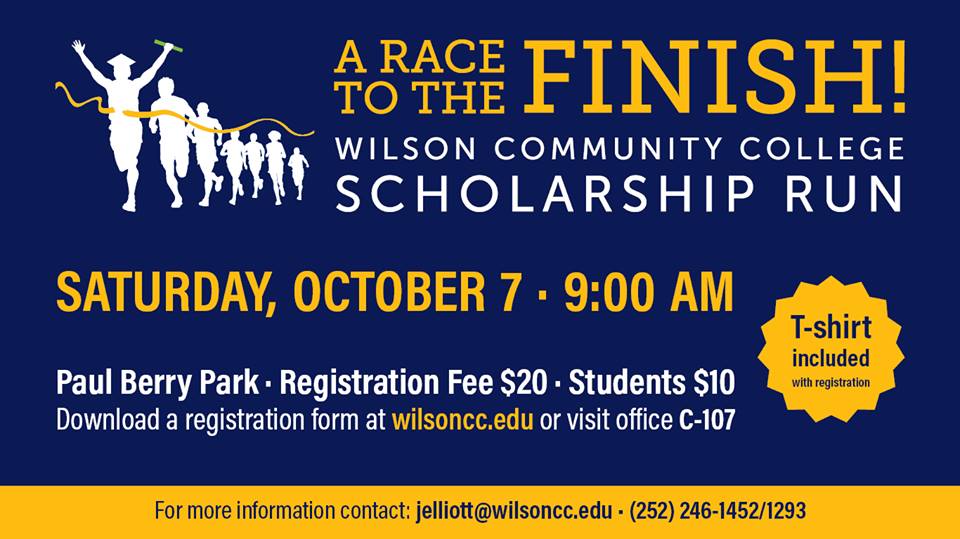 To order a copy of an Event Pictorial CD, download the order form and mail to:
Wilson Community College
P.O. Box 4305 • 902 Herring Avenue
Wilson, NC 27893
Attention: Foundation
All proceeds benefit student scholarships.
For more information, contact:
Jessica Bailey

Director of Marketing & Public Relations & Interim Foundation Director

Department: Foundation

Phone: (252) 246-1271

Email: jb4852@wilsoncc.edu

Office: C107
Lynne Medlin

Foundation Assistant

Department: Foundation

Phone: (252) 246-1452

Email: lm1432@wilsoncc.edu

Office: C107b