Fall 2016 Scholarship Luncheon
The 19th Annual Scholarship Awards Ceremony was held on Thursday, November 10, 2016, in the Frank L. Eagles Community Business Center. The 220 attendees included scholarship recipients, donors, Foundation Directors, College Trustees, distinguished guests and College faculty and staff. In addition to the presentation of 120 scholarships, attendees enjoyed inspirational speeches from WCC Nursing student, Ms. Lisa Barrett, and retired Wilson County School principal and WCC Evening Director, Mr. Henry Mercer. The Faculty Person of the Year, Mrs. Kendra Faulkner, and Staff Person of the Year, Mrs. Kay Medlin were both recognized and presented with their awards. Congratulations to all of our recipients.
Many thanks to all the generous donors for helping our students achieve their college goals and to all those who helped to coordinate and put on this successful event.
Fall 2016 Scholarship Run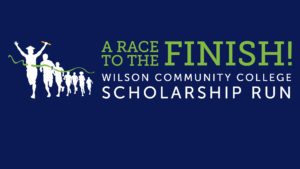 On October 15, 2016, Wilson Community College held its 3rd Annual Race to the Finish Line Scholarship 5k Run, downtown at Paul Berry Park. There were close to 100 participants and approximately $12,000 was raised to help students who are one or two classes away from graduation.
To order a copy of an Event Pictorial CD, download the order form and mail to:
Wilson Community College
P.O. Box 4305 • 902 Herring Avenue
Wilson, NC 27893
Attention: Foundation
All proceeds benefit student scholarships.
For credit card orders, please call:
Jane S Elliot
Assistant Director Institutional Advancement/Grants
(252) 246-1452