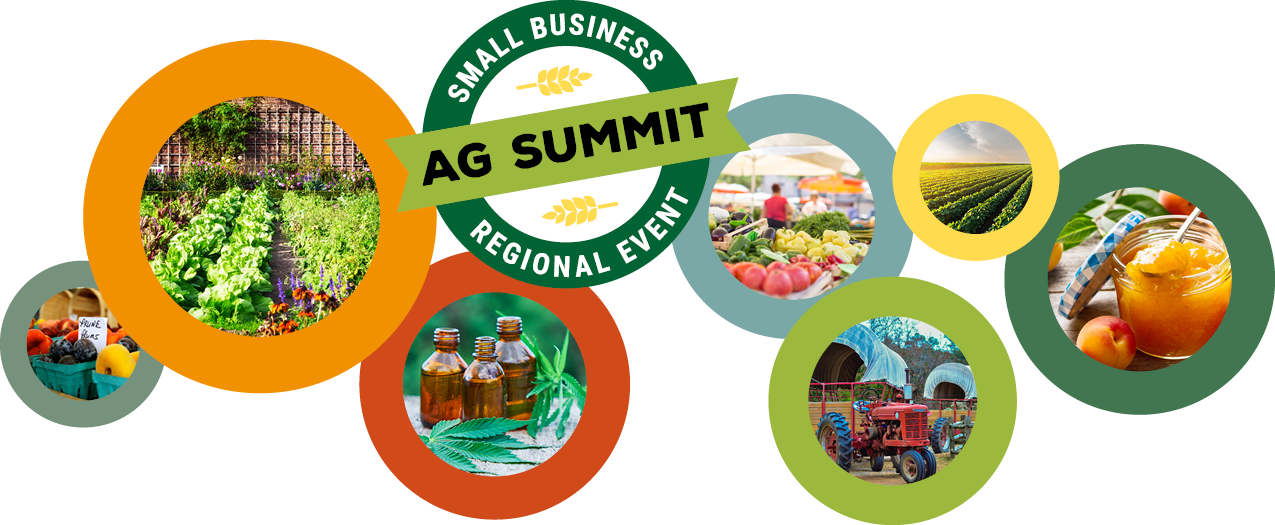 The N.E.W. Business of Agriculture:
Regional Opportunities for Growth
in Nash, Edgecombe & Wilson Counties
Friday, November 30, 2018 • 8:30 AM – 3:15 PM • Frank L. Eagles Community Business Center
Wilson Community College • 902 Herring Ave • Wilson, NC 27893
Please join us if you are a: Farmer, Agripreneur, Value Added Producer, Person Interested in Small Plot Niche Crops, New Farmer or Veteran Considering Farm Ownership, Farmer's Market Vendor Seeking Growth, Organic Grower or Seller, or Person Exploring an Ag Related Business.
This is a FREE event. Adults Only. Lunch will be available on campus during the lunchtime panel discussion.
Keynote Address, 9:00-9:30 AM:
The Future of Agriculture in Eastern NC
Room G237 / Frank L. Eagles Community Business Center –

Register!
Register or Sign-In (if pre-registered) beginning at 8:30 AM in the foyer of the Frank L. Eagles Building on the front side facing Ward Boulevard. Our keynote address will begin after our welcome at 8:50 AM by Dr. Tim Wright, Wilson Community College President. Prior to 8:50 AM, feel free to visit our vendor tables in the hallway outside the Eagle's Center.
Concurrent Breakout Session 1, 9:45-11:00 AM:
The Growing Business of Industrial Hemp
North Carolina Farmers are increasingly interested in the business opportunities in industrial hemp production. In this session you will learn about the most recent research, regulations and market opportunities available to farmers in the Wilson, Nash, and Edgecombe regions.
Cash Crops for the Small Acreage Entrepreneur
Whether you plan to grow in your backyard or on five acres, a unique crop or market can be the starting point of a successful business. This session will highlight farmers and food entrepreneurs that are utilizing small acreage to provide a unique product for their community and local market. You will learn how to identify an unmet need and provide a sustainable business solution that is beneficial for the grower and consumer.
Agritourism: Diversification Opportunities to Raise Farm Revenues
Could your farm do double duty to offer a venue for weddings, birthday parties, reunions, a barn dance, petting zoo, high tunnel greens in the winter months, a summer camp, a location for a vintage car show, or a location for a craft bazaar? Could doing so cover the equipment and insurance payments in the down season? Farmers will learn how to maximize partnerships and build relationships within their respective communities while utilizing existing resources to grow their businesses in this seminar.
Concurrent Breakout Session 2, 11:15 AM – 12:30 PM:
Making a Value-Added Food Product in a Home or Commercial Kitchen
As an existing or startup business owner or farmer-entrepreneur, you will understand the different types of saleable food products that can be manufactured in a home-based kitchen and those that require a commercial or shared-use commercial kitchen. Learn about food safety rules, regulations, and the inspection process. Understand the free educational resources available to successfully own and operate a food business in compliance with NCDA food laws and regulations.
Organic Opportunities for Your Farm
Organic crop and livestock production are providing new and profitable opportunities for farms large and small. This session will discuss a recent detailed study on the organics market for the region, what it takes to get started, and how to connect with buyers of your product.
From Waste By-Products to Small Business Revenue Streams
Food waste is a major challenge in the U.S. food system. It's estimated that 40% of food is lost across the supply chain, from the farm through distributor, retailer or food service, and to the consumer. However, those estimates leave out farm-level losses where a significant amount of healthy, nutrient-dense fruits and vegetables are left unharvested, representing water, inputs, and land losses. You will learn innovative practices to reduce waste, increase farm income and create viable, valuable, and tasty food products for consumers.
Lunch and Panel Discussion, 12:30-1:30 PM:
Regional Food & Farming Supply Chain Opportunities
Room G237 / Frank L. Eagles Community Business Center –
Register!
After a welcome by Norman Harrell, Jr., Wilson County Extension Director, participants will be introduced to a local food manufacturing project followed by an update on area local food councils and a lively discussion with successful growers, buyers and distributors. Participants will get a chance to ask the panelists questions about what it takes to be successful in today's farming and food value chain systems, while enjoying lunch.
Speaker(s): Gabriel Cummings, Working Landscapes, Founder; Thomas Joyner, Nash Produce, President; Facilitator: Ron Townley, UCPCOG, Planning & Development Services Program Director.
The Eagle's Center will be used for dining and the lunch time panel. In the event that there is an overflow crowd, Room G242 immediately across the hall will be accessible and offer a live stream of the panel discussions.
Concurrent Breakout Session 3, 1:30-2:45 PM:
New Farmer, Innovative Operations, & Veteran Farmer Funding Options
There are many educational, funding and technical support resources for new farmers, veterans, and those seeking to use innovative agricultural project ideas that will increase their farm profits. This session will supply these farmers with program overviews and contact information to support new ventures and grow existing operations, especially for those that were negatively impacted by the downturn of the tobacco economy. Grants are available to NC family farms in the N.E.W. counties.
Local Marketing for the Small Scale Producer, Retailer, Farmer's Markets, & Roadside Stands
Direct marketing techniques in rural regions can be unique to each type of market; so what are the keys to attracting customers in our region? This session will provide resources and information from NC Department of Agriculture on successful direct marketing techniques for small scale producers and retailers, as well as highlighting the experience of a local entrepreneur. Participants will also learn how existing marketing for SNAP/EBT can increase a producer's revenue.
Growing Your Business – Is Your Product Marketing on Target?
Marketing is a critical component of any successful business and can often be the main communication channel with consumers. In this session, discover opportunities to sell your product beyond traditional grocery stores, learn how to identify a market for your product while paying attention to associated costs and pricing. Gain a better understanding of resources for growing your business. Hear from a former North Carolina Outstanding Young Farmer of the Year who was a key presenter to The Automation Conference in Chicago, I.L. in April 2015 where he led a discussion on farm automation and computer assistance.
Dean's Farm Tour, 4:00-5:00 PM:
Dean's Farm Market – 4231 NC 42 W – Wilson, NC
Commute to Dean's Farm via your own personal vehicle immediately after the Ag Summit ends to experience and hear about the variety of ways that Dean's Farm engages the community with Agritourism activities that are both educational and fun. Hear about year-round activities, visit the Dean's Farm Market, and shop for pumpkin butter, jams, jellies, fall produce, yard accessories, frozen meals, and more at no cost. Enjoy a hayride for $5 per person around the farm.
The easiest access to the Frank L. Eagles Community Business Center / Building G is from the Ward Boulevard entrance to the campus. Parking will be available around the building and in the paved lot on the right, or the graveled lot on the left side. Parking is available on either side of the building (right side of map), as well as in the temporary parking area. Please see the map below.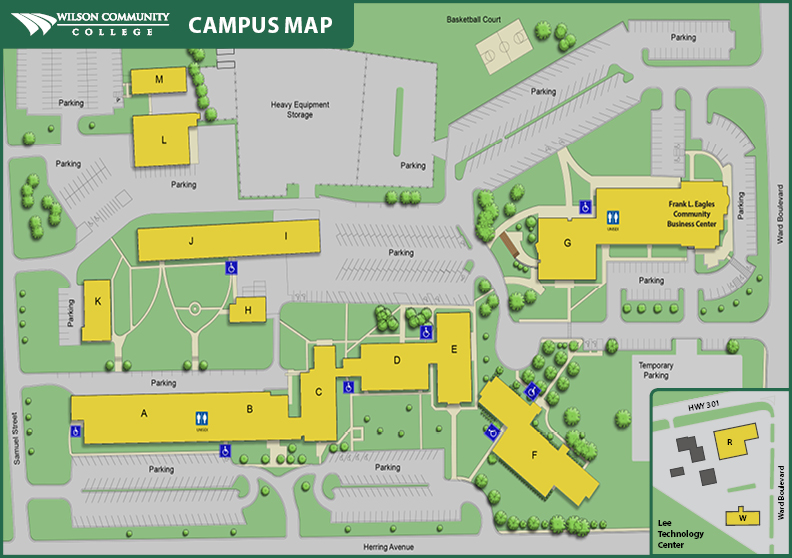 For more information, contact:
Melissa Evans, Wilson Community College • 252.246.1232 | Katelyn Edmondson, Edgecombe Community College • 252.823.5166 | Theresa Peaden, Nash Community College • 252.451.8233