Sigma Alpha Pi
Building Leaders to Make a Better World
The National Society of Leadership and Success Sigma Alpha Pi is a leadership honor society with the purpose of building leaders to make a better world. Our student leaders will do this by creating the lives they desire, by discovering what they want to do, and by utilizing support and tools to achieve their goals. Inducted members of Sigma Alpha Pi enhance personal, academic, and professional growth through self- motivation, success networking teams, personal success coaching, and international networking opportunities.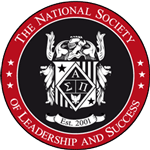 The Shield:
Two Stars: Accomplishing more together than we would alone
Six Bars: Six Steps of Leadership
Clarify your purpose
Create a shared vision
Challenge the status quo
Inspire positive action
Empower others
Seek constant improvement
Knight: Lead with Integrity
Phoenix: Overcome Adversity
National Society Supplemental Information Sheets

Success Action Purpose
Σ = Success
Α = Action
Π = Purpose
Success comes from continual action towards your purpose.
NSLS Advisor
Director of STARS Center
Department: Student Development
Phone: (252) 246-1386
Email: lg5564@wilsoncc.edu
Office: F103i