Reference
The reference collection is housed on the first floor of the library near the stairs. Items in this collection do not circulate. This is a good place to look if you need brief, factual information such as a definition, statistics or biographical material.
Audiovisuals
The library has an extensive collection of videotapes, both for educational and entertainment purposes. You can search for titles or subjects in our online catalog. Checkout for videos are two items per person, for two days. Overdue audiovisuals are billed $1.00 per day, per item.
Journals, Magazines, & Newspapers
The library subscribes to a variety of periodicals, including popular interest titles (such as People, Time, Newsweek) and scholarly and trade publications. Current issues of general interest titles are on display in the reading area of the library. All other titles, including back issues, are bound and shelved on the first floor of the library, or are on microfilm. We also receive several newspapers, including the Raleigh News and Observer, the Wilson Daily Times, USA Today and the New York Times. We keep three months worth of back issues in our library. If you need an article from a periodical not owned by this library, please ask for assistance at the front desk.
General Collection
The general collection is divided into two sections. The non-fiction section (arranged by the Dewey Decimal System) is housed on the second floor of the library and the fiction area (arranged alphabetically by author's last name) is on the first floor, next to the front desk. Books from these areas circulate for a period of four (4) weeks. If you need a book that is checked out or owned by another library, please ask for assistance at the front desk and we will try to get the material for you.
Reserves
The reserves collection is kept behind the front desk. Materials in this area include items for classes and permanent reserve material, such as GED preparation books. Some items are for in-library use only, while others circulate for a week.
For more information contact: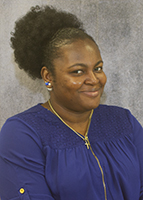 Library Assistant
Department: Library
Phone: (252) 246-1373
Email: chorne@wilsoncc.edu
Office: D100a