Join Wilson Community College, in partnership with the Eastern Carolina Corvette Club, for the Wilson Community College Car & Truck Show on Saturday, September 24, 2022 from 9 AM – 3 PM at Wilson Community College, 902 Herring Ave, Wilson, NC! Jeeps are also invited to participate. This event will be hosted at the back of the main campus. Please enter from the Ward Blvd entrances (see map below for reference). This event is free to the public. Vehicle entry is $15 before September 16 and $20 after September 16. Registration will be from 9 AM – noon with participants' choice awards presented at 3 PM. There will be a 50/50 raffle open to the public and participants. This event is sponsored by Lee Motor Group.
Participants' Choice Award Categories:
CLASSICS: All Makes & Models
BEST OF SHOW: Ford, GM, Mopar, Truck, Foreign, & Other
Awards for Top 10
CLASSICS I: 1984-1967
CLASSICS II: 1966-1950
CLASSICS III: 1949 & Older
CLASSICS – SPECIAL INTEREST: 1985-2022
SPECIAL INTEREST I: 1985-2003
SPECIAL INTEREST II: 2004-2022
WCC Car & Truck Show Registration Form
This is a rain or shine event. No drones. No loud music. All proceeds benefit the WCC Automotive Systems Technology program. To pre-register, complete a registration form for each vehicle entered and return by September 16, 2022. Make checks payable to the Wilson Community College Foundation.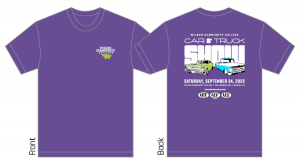 If you would like to order an event t-shirt, please fill out an order form and return to the WCC Foundation.
Mail registration forms and t-shirt orders to:
Wilson Community College Foundation • C/O Jessica Griffin
PO Box 4305 • 902 Herring Ave • Wilson, NC 27893
For more information: