Join Wilson Community College, in partnership with the Eastern Carolina Corvette Club, for the Wilson Community College Car & Truck Show on Saturday, October 26 from 9 AM – 3 PM at the Lee Technology Center, 4815 Ward Blvd, Wilson NC! This event is free to the public. Vehicle entry is $15 before October 18 and $20 after October 18. Registration will be from 9 AM – noon with awards presented at 3 PM. There will be a trophy for each category. This event is sponsored by Lee Motor Group.
Categories:
• CLASSICS: All Makes & Models
• CLASSICS I: 1984-1967 (Awards for Top 10)
• CLASSICS II: 1966-1950 (Awards for Top 10)
• CLASSICS III: 1949 & Older (Awards for Top 10)
• CLASSICS – SPECIAL INTEREST: 1985-2019 (Awards for Top 10)
• BEST OF SHOW: Ford, GM, Mopar, Truck, Foreign, & Other
WCC Car & Truck Show Registration Form
This is a rain or shine event. No drones. No loud music. All proceeds benefit the WCC Automotive Systems Technology program. To pre-register, complete a registration form for each vehicle entered and return by October 18, 2019. Make checks payable to the Wilson Community College Foundation.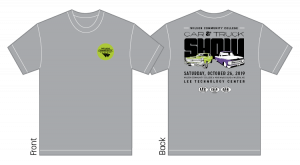 If you would like to order an event t-shirt, please fill out an order form and return to the WCC Foundation.
Mail registration forms and t-shirt orders to:
Wilson Community College Foundation • C/O Jessica Bailey
PO Box 4305 • 902 Herring Ave • Wilson, NC 27893
For more information:
Dean of Industrial Technologies
Department: Faculty
Phone: (252) 246-1210
Email: mnorfleet@wilsoncc.edu
Office: Lee Technology Center -W102