On Thursday, October 6, 2022 Wilson Community College hosted the Cyber Safe in the Gigabit City v4.0: Give Malware the Boot! virtual event where local business and industry experts and WCC representatives discussed malware, its common infection paths, types of information malware can steal from a compromised system, and how to defend against malware.
Keynote Speaker:
Alex Reinwald, North Carolina National Guard
Alex Reinwald is Division Chief for the Cyber Threat Intelligence Division for the North Carolina National Guard's Cyber Security Response Force. His previous duty assignments include Japan, South Korea, Arizona, and Alaska. He holds a Bachelor's degree in Geography from the University of Alabama and a Masters of Geographic Information Science and Technology from North Carolina State University. He has twice led the fusion and intelligence cell for the largest unclassified cyber incident response exercise in the United States. He currently holds GIAC Certified Incident Handler (GCIH), GIAC Penetration Tester (GPEN), GIAC Cyber Threat Intelligence (GCTI), and GIAC Information Security Professional (GISP) SANS certifications.
Panelists:
Fred White, City of Wilson/Greenlight
Fred works with Greenlight Community Broadband as a network technician and has been with the company for five years.  He was originally hired on as a Technical Service Representative, where in this position Greenlight customers would reach out when having technical difficulties with their service.  He has since then moved over to the engineering team, where he works with others to maintain, improve, and troubleshoot any issues within the City's network or fiber infrastructure.  Fred held years of customer-facing technical support before starting his career with Greenlight, which has given him a solid background for serving his community.
Joseph Vellucci, Computer Central
Joseph works as a Technician/Project Manager at Computer Central of Wilson. He spent 10 years in the US Navy working on computer equipment. Since the military, he earned his Associate in Applied Science in Information Technology from Wilson Community College. While working on his degree, he began working for Computer Central of Wilson and has been employed there ever since. Joseph routinely spends his days setting up network infrastructure, including wired, wireless, and fiber optic cabling, at businesses big and small – and even a full wireless solution for a town's government buildings. He also helps expand the capabilities of residential networking. While he has been employed at Computer Central, he has also built and helped maintain more than 100 websites. Joseph helps keep Computer Central's clients safe in the online world by keeping computers and software updated while also completing daily vulnerability scans on any and all equipment connected to the network.
Susan Weekley, East Carolina University
Susan Weekley is a Wilson native who has been in the IT profession for more than 25 years.  Ten of those years were in manufacturing, and the last 15+ in education.  Susan has served in various technology roles during the course of her career, including IT Director at two different colleges.  After completing a Master's degree in Networking Technology with a Cybersecurity Professional Certificate, Susan changed careers going from maintaining technology to teaching technology.  She now strives to share her 25 years of experience with up-and-coming students in the IT field, specifically cybersecurity.  She is currently working at East Carolina University as a teaching instructor in the Tech Systems Department.

For more information: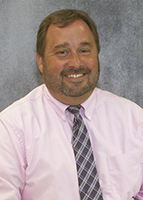 Dean of Continuing Education
Department: Continuing Education
Phone: (252) 246-1290
Email: whill@wilsoncc.edu
Office: B106