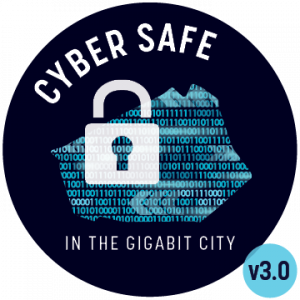 Thursday, October 7 • 10 – 11:30 AM
Join local business and industry experts and WCC representatives for the Cyber Safe in the Gigabit City v3.0: Cyber Safe in a Pandemic virtual event to learn about how COVID-19 has changed technology and information security! This event is free and open to the public. Be sure to preregister at the link below.
Cyber Safe v3.0 Registration Form
Keynote Speaker:
Dr. Mark Ciampa – Professor – Information Systems at Western Kentucky University
Dr. Mark Ciampa has authored over 25 technology textbooks, covering areas such as computer security, computer networking, wireless data technologies, and health information technology. His recent book, Security+ Guide to Network Security Fundamentals 6e, is the #1 best seller in computer network security worldwide. He has published over 20 articles in peer-reviewed journals and is a reviewer for security journals. Dr. Ciampa is a frequent speaker at regional and national publisher events, and recently conducted workshops for the National Security Agency (NSA) National Centers of Academic Excellence (CAE) in cyber defense, as well as "Train-the-Trainer" instruction for the Computing Technology Industry Association (CompTIA), a non-profit trade association that issues professional certifications for the IT industry. He also writes a weekly blog on security that currently has a readership of more than 10,000 followers. Dr. Ciampa serves as a consultant for schools around the country on security and technology curriculum. Prior to working at WKU, Dr. Ciampa was an Associate Professor and served as the Director of Academic Computing at Volunteer State Community College in Gallatin, Tennessee for 20 years, managing academic technology over five campuses, spanning several different counties across Middle Tennessee. He has worked in the IT industry as a computer consultant for various businesses and government agencies. He also serves on different boards and holds certifications in Security+ and HIT.

For more information: