Greetings, readers.  I am appreciative to have this forum to introduce myself to those of you I haven't had the pleasure of meeting.  It's also gratifying to reconnect with the many colleagues, friends, and neighbors I have already met.  Let me say that I am extremely happy to be part of this wonderful community.
I began my presidency at Wilson Community College on June 1, 2023, and I have seen first-hand the energy and enthusiasm of the college employees.  We are dedicated to being of service to our many constituents—students, business and industry, the school system, higher education partners, city and county elected officials, and numerous others who support our mission.
The college's mission is to provide "opportunities for academic excellence, student success, workforce development, and community partnerships." This mission is one that we pursue daily while upholding our values of continuous improvement, integrity, compassion, and equity.  I consider myself extremely fortunate to work in a profession that empowers people through education.  It has been said that an education is an investment that pays lifelong dividends, and not only for the recipient, but for their family and those in their community.
From a broader perspective, we are cultivating the next generation of thinkers and leaders, people who must have the intellectual tools to ask good questions, to seek accurate, relevant information, and to recognize the importance of serving and contributing to the greater good.  While our work is challenging, it is critical.  I am humbled and inspired by this audacious responsibility every day.
I am especially grateful for our community of collaborators who unite to support our colleges, schools, students, and business and industry.  They give freely of their time and energy.  Wilson County is poised to reach a higher level of educational and economic achievement, and we are committed to ensuring that these advances are felt broadly throughout our communities.
I have met some of our students—and I plan to meet many more.  Their stories remind me that many among us travel a challenging road.   So many students aspire to earn a college degree, but this goal is too often deferred in light of overwhelming financial, social, and emotional demands.   We are focused on creating a culture of care that we hope will uphold our students when adversities threaten to derail their dreams.  So many challenges await the next generation of leaders, and we cannot afford to leave any talent behind.
And our students are not alone in facing challenges.  Higher education is facing quite a few of its own, particularly with regard to declining high school populations, lack of public trust, mental health and safety, competition, and scarcity of resources.   While these challenges can seem daunting, Wilson Community College has the employee dedication and drive, plus the community support, to turn these challenges into opportunities.  Working together, we will create the future that our students and citizens deserve.
What does this future look like? We will be adaptive and responsive, providing the programs and services that our students and partners need.  We will establish our value proposition to potential students through a focus on excellence in teaching and learning that is also grounded in concern and support for the whole student.
We will address gaps in student performance and strive to provide not just access but also success for every single student.  In short, we will honor the investment the community has made in Wilson Community College by investing fully in our students.
Thank you for all you have done to welcome, support, and encourage me in my new role.    Wilson County is a great place to live and work, and together we will claim an even brighter future!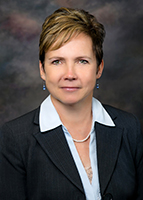 President
Department: President's Office
Phone: (252) 246-1202
Email: jwoods@wilsoncc.edu
Office: B100a