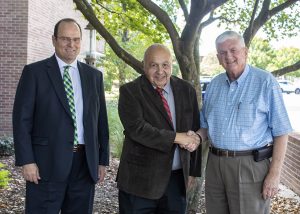 The Board of Trustees at Wilson Community College recently welcomed its new Chair and recognized the outgoing Chair of the Board.  Charles P. Farris, Jr., a local Wilson attorney, took the helm of Chair at the September 20, 2021, WCC Board of Trustees meeting.  David West, owner of West Insurance, preceded Mr. Farris' position, and has served as Chair since 2019.
Mr. Farris was appointed to the WCC Board to fill an unexpired term by Governor Roy Cooper on April 27, 2018.  He was reappointed for a four-year term on July 1, 2018, and was elected Chairman of the Board of Trustees on July 22, 2021, for a one-year term.
"It is my hope that our Board of Trustees will continue the practice and tradition of doing all we can to better the educational experience of our students.  We do this through the generosity of the people of Wilson and surrounding areas through various donations made to our Foundation, expanding Ride share programs to and from the campus, making available personal computers, if needed, and giving financial help to our students whenever we can.  At Wilson Community College, we are family, and we support each other.  Preparing our students for whatever career they want to pursue and helping them achieve their goals should always be our number one priority.  Our diverse board and the highly-qualified administration, faculty, and staff help ensure our students graduate with the skills they need to succeed," said Chairman Farris.
Mr. West, appointed by the Wilson County Board of Commissioners, has served as a Trustee since December 13, 1990.  He was Chair of the Board from 2019-2021, and also served as Vice Chairman for two years prior to being elected as Board Chair.
"It has been a pleasure serving as Chairman of the Wilson Community College Board of Trustees.  During my tenure on the Board, I have seen the College grow to serve more students who are striving to improve their education and status in life.  I look forward to working with Mr. Farris, to continue the growth of Wilson Community College," said Mr. West.
WCC President Tim Wright added, "Mr. Charlie Farris is the fifth Board Chair I've had the pleasure to work with, following the late Mr. Bucky Robbins, Mr. Ken Jones, Ms. Alice Freeman, and Mr. David West.  All brought their best talents and efforts to helping our county's citizens by governing Wilson Community College with wisdom and passion.  Certainly Mr. Farris brings that same enthusiasm to the position.  On behalf of the entire College family, I welcome him to the chair."
The Board of Trustees is made up of twelve volunteer members, and is the governing body of the College.  They are appointed by the Governor's Office, the Wilson County Board of Commissioners, and the Wilson County Board of Education.  Among their many responsibilities, trustees establish policies for the college, approve the budget each year, and serve as advocates of the college.
For more information about the role of the Board or information about Wilson Community College, visit www.wilsoncc.edu or call (252) 291-1195.