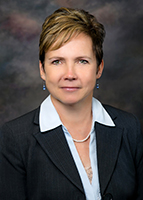 Dr. Jami Woods has been named the sixth president of Wilson Community College.  Woods will succeed Dr. Tim Wright, effective June 1.  Wright is retiring after a nearly eight-year tenure.
Woods, who grew up in North Carolina, is the current Vice President of Instruction and Student Services at Roanoke-Chowan Community College in Ahoskie.  She was one of four candidates that the WCC Board of Trustees invited to interview and tour the campus and Wilson County.
"I am humbled and honored to be selected as the next president of Wilson Community College, and I thank the Board of Trustees for the confidence that they have placed in me.  I also extend my sincere appreciation to the students, college employees, and the entire community for their commitment to the selection process and for their warm welcome.  I am eager to work with the College's exceptional team as we foster student success and lead the ongoing growth and development of Wilson County."
Woods served as the VP of Instruction from 2009 to 2021 at Surry Community College in Dobson, with oversight for Student Services added to her responsibilities in 2015. She holds a BA in English from the University of North Carolina Chapel Hill, an MA in English from Appalachian State University, and a Ph.D. in Curriculum and Instruction with a specialization in adult and higher education from the University of North Carolina Greensboro.
Woods began teaching as an adjunct in the community college system in 1995, and she began teaching full-time in 1998.  Her first administrative role was as a developmental chairperson in 2000.  She went on to serve as Dean of Arts and Sciences in 2003; and in 2007, she was appointed Chief Academic Officer.  Woods' educational experience expanded in 2015 to include oversight for Student Services.  She has served as an accreditation liaison for over ten years, and she is also president of the North Carolina Association of Community College Instructional Administrators group.
Chairman of the WCC Board of Trustees Charles P. Farris, Jr. said, "The Wilson Community College Board of Trustees unanimously voted to make Dr. Jami Woods the next president. She is the first female to serve in that position here.  The decision to hire her was truly a community-influenced one as the trustees considered the advice of the Wilson community through the various public forums, emails, and individual conversations made available to them during the more than half-year search.  Personally, I feel the reaction of the community, along with information obtained from her resume, interview, and other such criteria, gave the Board the green light to ask her to chart a new and exciting course for Wilson Community College. We certainly welcome her with widespread arms!"
Woods is planning several visits to the area prior to the transition, including a meeting with the trustees and Wright next week.
Wright shared, "It's my pleasure to welcome Dr. Woods to the WCC family and to Wilson County. The entire College and I will do everything we can to help her begin work as quickly, smoothly, and effectively as possible. We invite all fellow Wilsonians to join us in wishing her the very greatest success going forward."
Wright announced his retirement in the spring of 2022, after serving as WCC president since 2015 and with nearly 32 years working in community colleges in North Carolina and Wyoming.  Interviews with the four candidates were held in February, and the community was invited and encouraged to provide feedback and input on the qualities and qualifications the new president should possess.  The four candidates included Jami Woods, Camille Reese, J.W. Kelley, and Chris Cathcart. Reese serves as Vice President for Instruction and Chief Academic Officer at Johnston Community College, Kelley is the Associate Vice President for Student Services at the North Carolina Community College System Office, and Cathcart serves as Vice President of Student Affairs at Central Piedmont Community College.
Michael Taylor and Joe Barwick, consultants with Executive Leadership Associates, served as consultants for the trustees in the search for the College's next leader.  ELA received more than 50 applications for the position.  The opening was posted and advertised from late October through November 30.