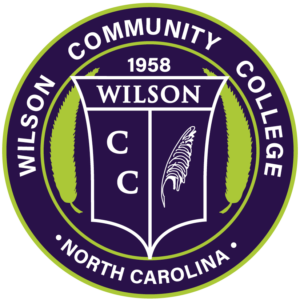 The Trustees of Wilson Community College hosted Presidential Candidate Forums February 20-23, 2023 in DelMastro Auditorium. Thank you to our faculty, staff, students, and community for your participation in the Presidential Candidate tours and forums. Your assistance in the search for the next leader of Wilson Community College is important and appreciated.
Candidate Forums
Monday, February 20, at 1:15 p.m. – Dr. Camille Reese

Tuesday, February 21, at 1:15 p.m. – Dr. Jami Woods
Presidential Candidate Forum Presentation – Dr. Jami Woods

Wednesday, February 22, at 1:15 p.m. – Dr. James W. Kelley

Thursday, February 23, at 1:15 p.m. – Dr. William C. Cathcart

Candidate Bios

Dr. Camille N. Reese
Dr. Camille Reese currently serves as the Vice President for Instruction and Chief Academic Officer at Johnston Community College in Smithfield, NC. She has over 25 years of experience in higher education, both in the University of North Carolina System and the North Carolina Community College System. Prior to her current role, Dr. Reese spent 19 years at Mitchell Community College, in Statesville, where she served in many roles, Director of Nursing and Allied Health, Dean of Health Sciences and Public Service Technologies, and 10 years as the Vice President for Instruction, Chief Academic Officer, and SACSCOC Liaison.
A native of Winston-Salem, Dr. Camille Reese is the product of the North Carolina Community College System. She completed the Practical Nurse Program at Forsyth Technical Community College. She earned a Bachelor of Science in Nursing from Winston Salem State University, and both a Master of Science in Nursing Education and a Doctor of Education in Educational Leadership from the University of North Carolina at Greensboro.
Dr. Reese has been actively involved in a variety of professional and civic organizations.  She has served on boards, including the Rotary Club of Statesville, Davis Regional Medical Center, the Boy's and Girl's Club of the Piedmont, and the United Way of Iredell County.
Dr. Reese is married, has two grown children and three grandchildren.  She enjoys cooking, baking, and canning. She is a "history buff" and an avid reader. Four years ago, she achieved one of her personal goals to become a certified beekeeper. She has two bee hives and has been fortunate to reap the benefits of the hard work of her honeybees.

Dr. Jami Woods
Dr. Jami Woods is the Vice President of Instruction and Student Services at Roanoke-Chowan Community College in Ahoskie, NC.  Prior to her current role, Dr. Woods was the VP of Instruction from 2009 to 2021 at Surry Community College in Dobson, NC, with oversight for Student Services added to her responsibilities in 2015. She holds a BA in English from the University of North Carolina Chapel Hill, an MA in English from Appalachian State University, and a Ph.D. in Curriculum and Instruction with a specialization in adult and higher education from the University of North Carolina Greensboro.
Dr. Woods began teaching as an adjunct in the community college system in 1995, and she began teaching full-time in 1998.  Her first administrative role was as a developmental chairperson in 2000.  She went on to serve as Dean of Arts and Sciences in 2003; and in 2007, she was appointed Chief Academic Officer.  Dr. Woods' educational experience expanded in 2015 to include oversight for Student Services.  She has served as an accreditation liaison for over ten years, and she is also president of the North Carolina Association of Community College Instructional Administrators group.
Dr. Woods' educational interests are developmental education; diversity, equity, and inclusion; and critical thinking.  Her personal interests are reading, walking, and spending time with her friends and family, particularly on the NC coast.

Dr. James "J.W." Kelley
Dr. James "J.W." Kelley currently serves as the Associate Vice President for Student Services at the North Carolina Community College System Office in Raleigh, NC. Prior to his current role, he served as the Vice President of Student Services at Randolph Community College, as well as a counselor, Director of Admissions, and Division Chair for Humanities and Social Sciences at Fayetteville Technical Community College. He has also taught at many NC community colleges and private universities/colleges.  Dr. Kelley served in the U.S. Army and supported the deployment of units during Operation Just Cause; further, he deployed during Operation Desert Shield/Storm.
Dr. Kelley earned an Education Doctorate in the Management of Programs for Children, Youth, and Families from Nova Southeastern University, a Master of Arts in Counseling from Cincinnati Bible College, and a Bachelor of Arts from Johnson Bible College. He was the 2010 North Carolina Community College System Staff Member of the Year. He has provided keynote addresses in a variety of venues for students, faculty, and staff and has presented conference workshops on topics ranging from Leadership Development to Student Success Initiatives.  An example of his published work is "Service: The Heart of Community College Leadership" (2008) College & University Journal, 83, 4, 37-39.
Born in Kentucky, JW grew-up in rural communities in the southeast. He is married and has two sons, one a high school senior and the other a sophomore at NCSU. He enjoys 5k and 10k races, hiking, Marvel movies, and volunteering at church and Habitat for Humanity.

Dr. William (Chris) Cathcart
Dr. William (Chris) Cathcart serves as the Vice President of Student Affairs at Central Piedmont Community College in Charlotte, NC. He began his journey with Central Piedmont in August 2020. He works with faculty, staff, and administration to create success stories for all students – past, present, and future. Prior to his current role, Dr. Cathcart served as the Vice-Chancellor of Student Success for Ivy Tech Community College Northeast in Fort Wayne, Indiana.
Originally from Charlotte, North Carolina, Dr. Cathcart holds an Ed.D. in community college leadership and a master's degree in adult and community education from Ball State University, an MBA in strategy and finance from Vanderbilt University, and a bachelor's degree in psychology from Morehouse College.  His past work in community leadership includes serving on the AWS Foundation board, an organization committed to supporting opportunities for the special needs community.  He also served as the co-chair for Fort Wayne United, which seeks to increase chances for men and boys of color to feel valued and appreciated as productive members of the Fort Wayne community.
Dr. Cathcart currently resides in his hometown of Charlotte, and enjoys spending time with his two sons, Ronald and Mason.