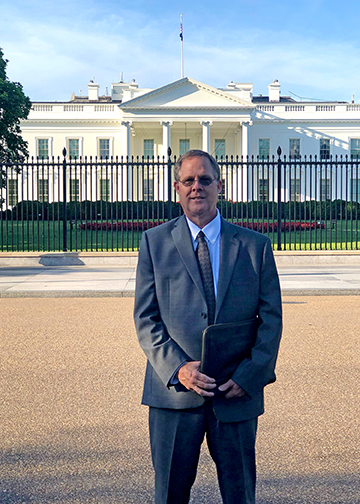 On Friday, June 17, 2022, the White House hosted a roundtable discussion to launch the Administration's Infrastructure Talent Pipeline Challenge. Rob Holsten, Vice President for Academic Affairs at Wilson Community College, was invited to participate by senior White House officials, including Director of the National Economic Council Brian Deese, Director of the Domestic Policy Council Susan Rice, Infrastructure Coordinator Mitch Landrieu, American Rescue Plan Coordinator Gene Sperling, and Secretary of Labor Marty Walsh. Discussions were focused on creating jobs that meet the needs of local communities, while also providing a living wage for skilled workers. Holsten was invited to share how the training partnership between WCC and Greenlight is facilitating successful implementation of the Infrastructure Investment and Jobs Act.
According to Holsten, "It was an honor to participate in the roundtable discussion. I was able to talk about the College's work with Greenlight and the Fiber Broadband Association to develop training for fiber technicians, and to also describe how Wilson Community College is ready to develop and provide the training necessary to meet the workforce needs resulting from the infrastructure talent pipeline challenge."
Following the roundtable meeting, Mr. Holsten was asked by Katelyn Walker Mooney, Director of the Good Jobs Initiative, to attend the Good Jobs Summit which was held at the Department of Labor on Tuesday, June 21, 2022. Hosted by Deputy Secretary of Labor Julie Su, with keynote remarks from Secretary of Labor Martin J. Walsh, Deputy Secretary of Commerce Don Graves, Deputy Secretary of Transportation Polly Trottenberg, and Deputy Secretary of Energy David M. Turk, the Summit highlighted effective strategies and partnerships that deliver good jobs for all and equitable workforce development.
For information on fiber programming at Wilson Community College, please contact us at (252) 291-1195 or visit www.wilsoncc.edu.