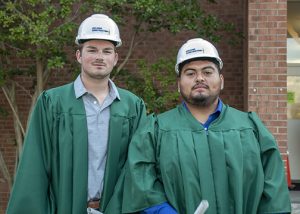 Wilson Community College's Building Construction Technology program kicked off just a couple of years ago, and we just celebrated our first graduates of the program – Thomas Evans and Jesus Raya.
Both graduates had encouraging words to share.  "Wilson Community college gave us an opportunity on opening building construction technology for the first time in 2020. I didn't hesitate in joining. Learning new skills and being able to complete the program felt great for me to know that I've accomplished something big. This is just the beginning of my success, and I plan to continue working with my father in the business of framing. I am also thinking about getting my general contractor license to expand the family business. As I continue learning and growing, I want to inspire and give hope for many others who plan on working in the construction industry," said Jesus Raya.
And Thomas Evans shared, "I am thankful that Wilson Community College started offering the program. I was interested in construction and was looking at area schools that carried the program once I completed high school. Wilson Community College was very convenient. I learned a lot about the construction business, and I would highly recommend this program."
What is Building Construction Technology, and is it a good fit for you?  If you like working with tools and equipment and completing projects with a hands-on learning approach, it might be right up your alley.  The Building Construction Technology program is designed to prepare students to apply technical knowledge and skills to residential and commercial building construction and remodeling. Our graduates of the program can find entry-level jobs in architectural, engineering, construction, and trades professions, as well as positions in industry and government. And the need for qualified building construction workers exists and will only increase as the economy ramps back up.
Program instruction covers it all: construction equipment and OSHA/safety; site preparation and layout; construction estimating; print reading; building codes, framing, ventilation, and mechanical systems; interior and exterior finishing; and plumbing.
Building Construction Technology students at Wilson Community College gain a wealth of hands-on experience, working with an instructor that has extensive experience as a Licensed General Contractor and an OSHA Authorized Construction Trainer.  Students work in a newly-remodeled building construction lab and also get experience on actual job sites. Our students get to work on community projects – like helping Habitat for Humanity.  They also work with Welding Technology and Applied Engineering Technology students at the College on various projects.  Visit the College's Facebook page to see what they've worked on since the program started.
Registration for Fall semester classes starts June 13. If you are interested in learning more about the Building Construction Technology program or careers in building construction, contact Eric Maas, Building Construction Technology Instructor, at (252) 246-1236 or emaas@wilsoncc.edu.  You can also visit the Building Construction Technology page.  #WilsonCC We make Wilson work.
WHAT'S HAPPENING
June 13 and ongoing – Early Registration for Fall Semester
June 29 – Fire Academy Graduation