Wilson Community College supports the rights and privacies afforded each student by the Family Educational Rights and Privacy Act of 1974 (FERPA) and is in compliance with its provisions. FERPA affords eligible students certain rights with respect to their education records. An "eligible student" under FERPA is a student who is 18 years of age or older OR who attends a postsecondary institution.
These rights include:
The right to inspect and review the student's education records within 45 days after the day the College receives a request for access. A student should submit to the Director of Enrollment Services/Registrar, a written request that identifies the record(s) the student wishes to inspect. The College will make arrangements for access and notify the student of the time and place where the records may be inspected.
The right to request the amendment of the student's education records that the student believes is inaccurate, misleading, or otherwise in violation of the student's privacy rights under FERPA.
FERPA requires that Wilson Community College, with certain exceptions, obtain written consent prior to the disclosure of personally identifiable information (PII) from education records. However, the College may disclose appropriately designated "directory information" to outside organizations, without a student's prior written consent. The following information is classified as directory information:
Student's Name
Student's Identification Number (for use on student ID cards)
Major Field of Study
Dates of Attendance
Officially recognized College activities
Degrees, honors, and awards received
The Director of Enrollment Services/Registrar is the designated FERPA Compliance Officer and will be responsible for the release of all official student records, files, and data directly related to students, including information kept in cumulative records and intended for College use, or to be available to persons or agencies outside the College for questions or concerns about student records and/or release of records.
NOTE: Any student who does not wish the College to release any or all of the information designated as directory information without the student's written consent, must notify the Director of Enrollment Services/Registrar's Office in Building F.
Additional information about FERPA and the release of information can be found in the College Catalog.
For more information contact: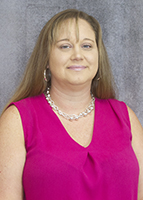 Associate Vice President of Enrollment Services/Registrar
Department: Student Development
Phone: (252) 246-1228
Email: jgonyea@wilsoncc.edu
Office: F100f