New Program Coming Fall 2020!
The Building Construction Technology curriculum is designed to prepare students to apply technical knowledge and skills to residential and commercial building construction and remodeling. Course work includes instruction in construction equipment and safety; site preparation and layout; construction estimating; print reading; building codes; framing; heating, ventilation, and air conditioning; electrical and mechanical systems; interior and exterior finishing; and plumbing.
Graduates should qualify for entry-level jobs in architectural, engineering, construction and trades professions as well as positions in industry and government.
Building Construction Technology Degree Requirements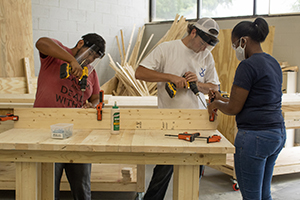 For more information contact:
Building Construction Technology Instructor
Department: Faculty
Phone: (252) 246-1236
Email: emaas@wilsoncc.edu
Office: A105
Dean of Industrial Technologies
Department: Faculty
Phone: (252) 246-1210
Email: mnorfleet@wilsoncc.edu
Office: Lee Technology Center -R146