College Central Network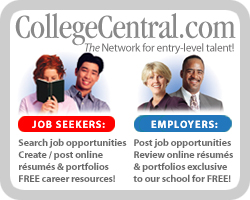 Wilson Community College uses College Central Network as its official job resource and resume' system. The site is available 24/7 to students, alumni, employers, and community residents.
Students
Quickly apply to jobs and Internship/Co-op opportunities posted exclusively for you, and search for other opportunities via Jobs Central® and Intern Central®, national job boards.

Create and upload your resume and career portfolio to make available to employers.

Access our events calendar, and career/job search advice documents, podcasts, videos, and more.

Review Career Fair information and company recruitment visits.
Employers
Search for talented students, alumni, and community residents and post unlimited jobs for free!
workNwilson
Explore career opportunities in Wilson, NC
NC Careers.org
Explore career paths based on your interests
NC Works Online
Here you will find information and resources to help you in all aspects of your career search! Career Development offers guidance to students and graduates through a variety of personalized interactions. In addition to face-to-face workshops, seminars, and one-on-one appointments, Career Development offers self-directed, web-based resources designed to assist individuals in making informed decisions concerning their education and career path.
Webinars and seminars will be offered throughout the year to provide opportunities for assistance to students and graduates.
Career Development provides individual assistance and online resources for:
Career Assessment and Exploration
Career and Major Counseling
Job Applications
Resume Assistance
Interview Strategies
Cover Letters
Thank You Letters
Using Social Media in your Job Search
Career Portfolios
Career Center (Self-Directed)
Room F-100c (in the Financial Aid Suite)
Monday – Thursday: 7:30 AM – 5:00 PM
Friday: 8:00 AM – 3:00 PM (closed on Friday during summer months)
To schedule an individual appointment contact:
Recruitment Coordinator/Counselor
Department: Student Development
Phone: (252) 246-1435
Email: jharris@wilsoncc.edu
Office: F100c
Accessibility Services Coordinator/Counselor
Department: Student Development
Phone: (252) 246-1230
Email: jsykes@wilsoncc.edu
Office: F100b