Wilson Community College is proud to participate in the Dogwood Digital Library consortium of North Carolina Community College Libraries, to share access to Ebooks and Audiobooks.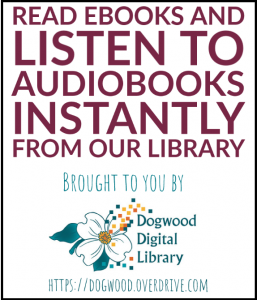 Books can be accessed via computer or through the Libby App or the Kindle App on mobile devices.
Go to the Dogwood Digital Library (you will need to sign in using your WCC username/password if accessing from off-campus).
Find the title you want to check out.
If the title is available click 'Borrow'.
Choose how you want to read the title.
Getting and using the Libby app on a mobile device:
Once you download the Libby app you will be asked a few simple questions to link the app to your Wilson Community College Library account:
Do you have a Library card = Yes
Tap "I'll search for a Library" and type Wilson Community College
Choose Dogwood Digital Library at Wilson Community College
To sign in, tap Wilson Community College, tap Next, tap Continue. This will bring you to the WCC EZproxy Authentication site.
Enter your WCC username and password and tap Login.
Click Next to explore the available eBook and Audiobooks.
Reading with Kindle
You can read most borrowed eBooks with Kindle (available in the U.S. only). To send a book to Kindle and read it there:
Go to Shelf > Loans.
Tap Read With…
Tap Kindle.
You'll be taken to Amazon's website to finish getting the book.
If you're signed into your Amazon account, verify the "Deliver to:" device and tap Get Library Book.
If you're not signed into your Amazon account, tap Get Library Book, and sign in.
The following parameters are applied to eBook, audiobook, and streaming video checkouts:
Users can check out five items at a time and have five holds at a time.
Ebooks can be checked out for 21 days.
Audiobooks can be checked out for 14 days
Streaming Videos can be checked out for 7 days.
Enjoy an eBook or Audiobook through the WCC Library today!